Description
A set of network solar power station for the home based on a Huawei 33 ktl inverter - 1pc with a power of 33 kW and 90 solar panels of the Japanese brand Leapton 330 MONO half - cell, 6mm PV cable. - 500m. This network power station is one of the highest quality, reliable and highly efficient solutions for private households under the "green tariff" in Ukraine. This system will allow you not only to fully compensate for energy costs for a private house, but also to receive the corresponding profit at the "green tariff" by the end of 2030.
PRINCIPLE OF WORK OF SOLAR POWER PLANT
The PV system under the "green" tariff consists of polycrystalline / single crystal silicon panels (modules, batteries) and a network inverter. The photomodules absorb sunlight and generate direct current. The inverter converts direct current to alternating current for supply to the consumer or to the common network. Unlike autonomous solar power plants, network installations are not equipped with rechargeable batteries and are not suitable for stand - alone or backup power supply.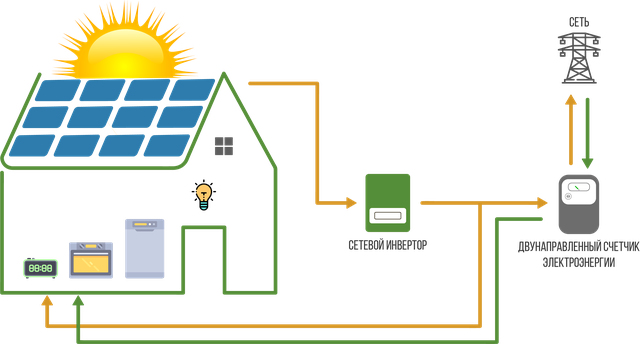 ADVANTAGES OF SOLAR POWER PLANTS
ENVIRONMENTALITY. Solar energy is a renewable, clean, free natural resource. The photovoltaic systems operating from it do not adversely affect the environment.
AVAILABILITY. Solar panels are steadily getting cheaper, and their productivity is increasing. Last year alone, the price of polycrystalline models decreased by 25% , and single - crystal models by 20% .
PRACTICALITY. A variety of mounting systems allows you to install photomodules on the roofs of any complexity, both pitched and flat. If necessary, the roofing surface can be expanded using ground metal.
COMFORT. Unlike wind generators, solar panels do not make noise. The maintenance of the panels is quite simple: to keep the light - absorbing glass clean, the devices are washed 1–2 times a year, and they are cleaned of leaves, branches and snow.
DURABILITY. Solar power stations serve at least 25 years. Do not need expensive and time - consuming maintenance. Over the entire period of operation, the drop in the initial power of the panels as a result of wear does not exceed 20% .
Contact the seller
Solar Power Station 30 kW