Description
A set of networked solar power plant for the house based on the Huawei inverter - 1pc and solar panels. This grid power plant is one of the highest quality, reliable and highly efficient solutions for a private household under the "green tariff" in Ukraine. This system will allow you not only to fully compensate for the energy costs for a private house, but also to receive the corresponding profit at the "green tariff" until the end of 2030.
OPERATING PRINCIPLE OF A SOLAR POWER PLANT
The photovoltaic system under the "green" tariff consists of polycrystalline / monocrystalline silicon panels (modules, batteries) and a grid inverter. PV modules absorb sunlight and generate direct current. The inverter converts direct electric current into alternating current for supply to the consumer or to the general network. Unlike autonomous solar power plants, grid installations are not equipped with rechargeable batteries, and are not suitable for autonomous or backup power supply.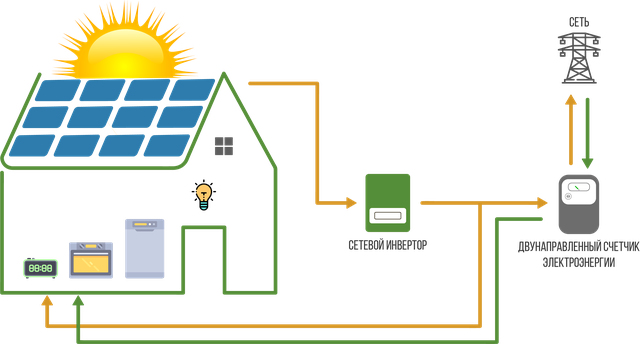 THE ADVANTAGES OF SOLAR POWER PLANTS
ECOLOGICAL. Solar energy is a renewable, clean, free natural resource. Photovoltaic systems powered by it do not have a detrimental effect on the environment.
ДОСТУПНОСТЬ. Солнечные панели стабильно дешевеют, а их производительность повышается. Только за прошлый год цена на поликристаллические модели снизилась на 25% , а на монокристаллические на 20% .
ПРАКТИЧНОСТЬ. Разнообразие систем креплений позволяет устанавливать фотомодули на крышах любой сложности, как скатных, так и плоских. При необходимости кровельную поверхность можно расширить с помощью наземной металлоконструкции.
КОМФОРТ. В отличие от ветрогенераторов солнечные батареи не шумят. Уход за панелями достаточно прост: для поддержания светопоглащающего стекла в чистоте устройства моют 1 - 2 раза в год, очищают от листьев, веток и снега.
ДОЛГОВЕЧНОСТЬ. Солнечные электростанции служат не менее 25 лет. Не нуждаются в дорогостоящем и трудоемком обслуживании. За весь период эксплуатации падение первоначальной мощность панелей в результате износа не превышает 20% .
Contact the seller
Solar power plant 20 kW