Pearl Leather Protector - 1 liter - for skin protection
For example: +380(50)123-45-67
Cash,
Invoice payment,
Visa/Mastercard,
Cash on delivery,
Credit card
Customer pickup,
Courier,
Transport company,
Nova Poshta,
Доставка "Justin",
Доставка почтой
Technical characteristics
Brand

Pearl Waterless Car Wash

Country of manufacture

United Kingdom
Description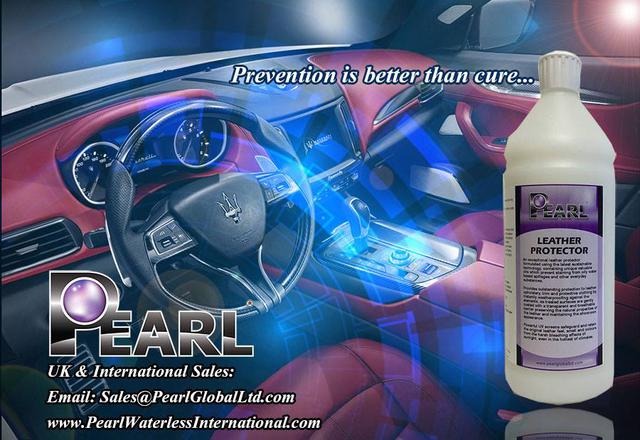 Pearl Leather Protector - is a tool with advanced technologies for sustainable protection of the skin from dirt and stains; means comprises a unique and valuable oil, which prevent staining of the skin in consequence of the impact / hitting various beverages, food on the leather upholstery of cars.
It provides outstanding protection : Protects the leather upholstery, trim, including the weather, because the treated surface gently covered with a transparent and breathable barrier that preserves the natural properties of the skin with hydrophobic features that retain flexibility and appearance of the leather interior.
Powerful UV Protection : Protects and preserves the sense of smell and color of the skin from exposure to sunlight, even in the hottest climates.
Directions for use :
Shake well before use.
1. Ensure that the purity and dryness of the skin before the treatment.
2. Apply a thin even coating by using a soft, dry cotton cloth or sponge.
3. Allow 10 - 15 minutes to dry naturally.
4. Do not polish the surface.
Not suitable for suede or similar finishing, and always test first on a small inconspicuous area to check that the leather surface is painted and waterproof.
Contaminated skin should always be pre - cleaned with a Pearl Leather Cleaner or a Pearl Universal Cleaner , as well as for additional elasticity and shine with a Pearl Leather A Cream . Do not apply in cold wet conditions on the hot leather surfaces or in direct sunlight.
Contact the seller
Pearl Leather Protector - 1 liter - for skin protection