Pearl Glass Sparkle - 500 ml - with advanced trigger
For example: +380(50)123-45-67
Cash,
Invoice payment,
Visa/Mastercard,
Cash on delivery,
Credit card
Customer pickup,
Courier,
Transport company,
Nova Poshta,
Доставка "Justin",
Доставка почтой
Technical characteristics
Brand

Pearl Waterless Car Wash

Country of manufacture

United Kingdom
Description
Glass Sparkle Pearl - means for cleaning glass, mirrors, plastic surfaces, ceramic. Removes dry dirt, stains, fingerprints, traces of nicotine and other insects; It does not leave stains, color highlights. The product does not contain abrasives, silicone, ammonia. Very easy to use - just spray and polish.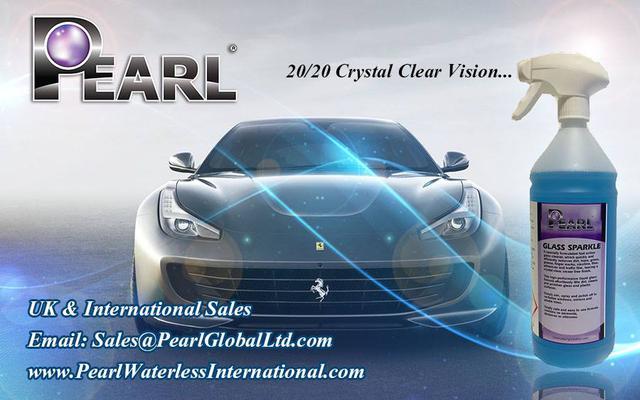 Pearl® Glass Sparkle - a specially developed cleaner for glass fast action that quickly and efficiently removes dirt, mist, grease, fingerprints, nicotine, flies, adhesives and road film, leaving a crystal clear, blemish - free surface.
This highly formula waterglass easily removes dirt, polishes and cleans the glass and plastic surfaces.
Just spray and polish to "revive" the window, mirror and plastic strip.
Pearl Glass Sparkle completely safe and easy - to - use formula does not contain ammonia, abrasives or silicones.
Brilliant : Cleans all glass and plastic surfaces to an amazing brilliance, transparency and purity.
Really fast : just apply and polish.
Removes dirt, turbidity, stains fingers, nicotine, flies and more.
No white stripes - no colored rainbow haze.
Safe : no abrasives, no silicones, no ammonia.
Directions for use :
Dusts on the glass / plastic.
Wipe the area to pick up the dirt; polish with a dry cloth. For best results when working with a large glass / plastic clean the surface in direct sunlight.
The use of vehicles: cars, buses, coaches, caravans, taxis, trains, yachts, and around the house.
For purification of any glass, mirrors, plastic (not only in the car)
At leisure: the exhibition halls, health centers, shop windows, restaurants, hotels, pubs, etc. . .
Surfaces: Glass windows, windshields, mirrors, plastic, acrylic windows, cover, covers, made of laminate shelves, ceramic tile.
Advanced trigger provides up to 40% savings in the application means to the surface
Contact the seller
Pearl Glass Sparkle - 500 ml - with advanced trigger